Arianna & Miosotis: Clash of the Super-Naturals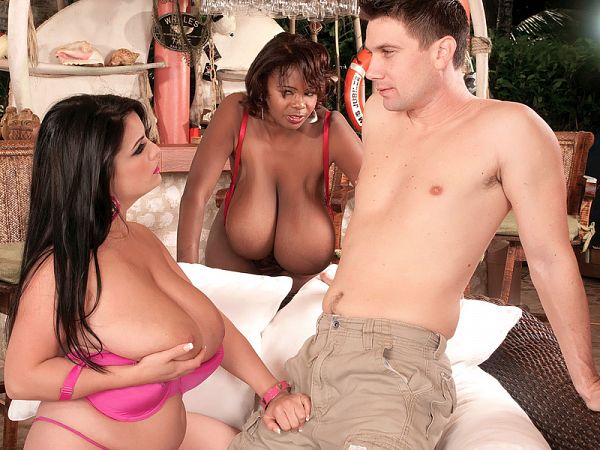 Part 1: Watch me fuck!
When this scene opens, we're on a balcony overlooking the Atlantic Ocean in the Dominican Republic. Arianna is wearing a robe and a pink bra that her G-cup naturals overflow.
"I will be shooting a lesbian scene for the first time ever with Miosotis," Arianna tells us. The interviewer asks why Miosotis, and Arianna says, "Because she's my favorite. I want her to dominate me. I want her to tease me with her tongue. Lick my nipples and suck them. Lick my clit. I'm a lesbian virgin, and I am so proud that Miosotis will be the first one."
In Part 1 of this three-part special, we also get to meet Miosotis, whose KKK-cup tits make her one of the most-stacked slim 'n' stacked naturals in the world. Asked to name her favorite thing about Arianna, Miosotis says, "Her hair." But, as we'll find out later in Part 2 of this special, Miosotis obviously loves Arianna's tits and pussy, too.
For most of this scene, Miosotis (who can also be seen at Scoreland.com) watches along with us as Arianna sucks and fucks a lucky stud. But then Miosotis walks over to where Arianna is fucking and lets Arianna play with her tits. We get little hints of what's to come, especially when Arianna's fucking reverse-cowgirl style and Miosotis reaches out to play with Arianna's tits.
The stud shoots his load on Arianna's tits. Miosotis kisses Arianna. And the show has just begun!