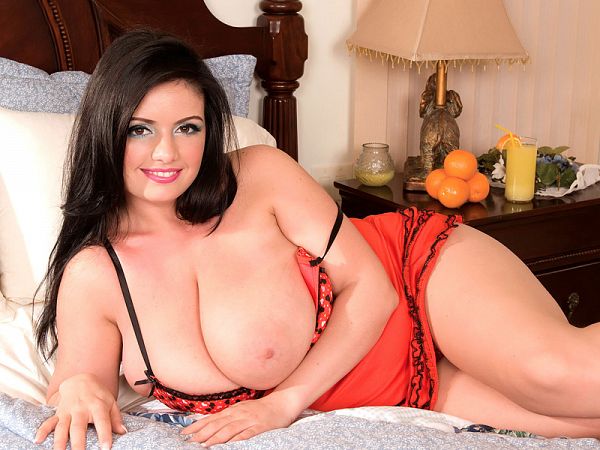 In this intimate video shot P.O.V.-style, Arianna comes in from the beach at Grand Bahama Island wearing a tight, orange, corseted lingerie dress and showing off huge amounts of cleavage.
"Hi, baby," she says. "Here we are again at Busty Arianna.com. Now it's just you and me in my bed, and we will have lots of fun."
She smiles, bunches up her tits, creating mega-cleavage, and asks, "Don't you like being alone with me?" Of course we do, Arianna! She lets a nipple slide out (haven't you noticed that Arianna never keeps up the tit tease for long? She's always eager to release her flesh puppies).
"I'm so happy to be with you, baby," Arianna says. "Have you ever imagined being in bed with me? We can do whatever you want, baby. I'm all yours. I'm your girl!"
The highlight of this video is when pours skin cream onto her tits, and then, all of a sudden, a hand-is it your hand?-reaches out and tweaks her nipple and massages her tits, something we've all fantasized about doing.
When her tits have been taken care of, Arianna lays back and spreads her legs.
"Do you like that pussy, baby?" she says as the camera zooms in on her clean cunt. She pulls out a giant, flesh-colored dildo, rubs it against her pussy lips, then shoves it in. And if you're not thinking what we're thinking, you're in the wrong place!