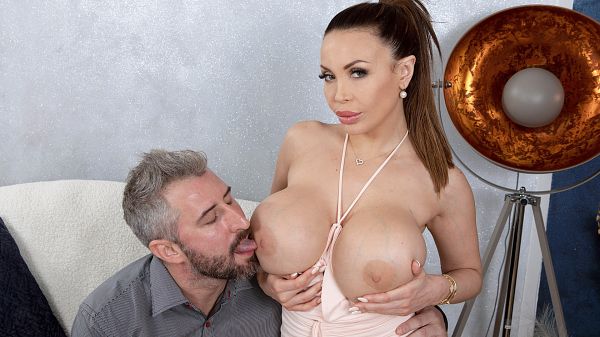 A woman who turns heads wherever she goes, Anastasia Doll walks into the room to look at herself in the mirror. She's dressed for a big night out in a tight evening gown designed to draw eyes to her big tits. Her dress designer has succeeded at that, for sure.
Meanwhile, her dinner companion George Brown is sitting in a chair a few feet away with his back to her and busy jerking off. At first, Anastasia doesn't see him, but when she does, she gets very upset. Here she is, dressed and looking like a sexbomb movie star at Cannes and her date is whacking off instead of waiting quietly and watching her primp. Shocking! What is this guy, a sex maniac?
George tries to apologize for his sleazy behavior. That's difficult to do because hell hath no fury like a woman whose date would jack behind her back and screw up her evening. Fortunately for George, Anastasia is the most forgiving woman in the world and gives George a second chance after this insult.
Anastasia plays with her big boobs, taking them out of her dress and offering them to him for a lick. She's rightly proud of her tits and hot bod, and with her beautiful face, she's the whole package.
The living Doll slips off her dress to show him the beautiful body that made her the covergirl of the DVD SCORE Silhouette and several other DVDs. Standing in front of him naked in heels, Anastasia taunts George and makes him watch her while she touches herself.
Having learned his lesson, George now gets the go-ahead from Mademoiselle Doll to fuck her tits. What a woman! Instead of throwing him out of the apartment, she takes his cock in her hands and mouth to tug and suck. Getting on her back, Anastasia offers him her tits once more. He pushes her breasts together with his dick wedged between them and fucks them once more, finally covering her breasts with his nut-juice.