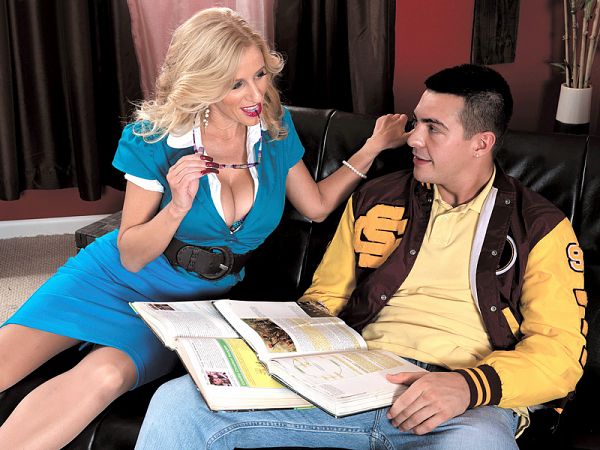 Johnny's football coach has sent him to Ms. Claus for some extra help. His grades are bad, the playoffs are coming up and he needs to perform. Holly is always very concerned about her students' performance, especially her male students' performance.
"I have an idea," she says, her DD-cups bulging out of her tight, blue dress. "I do some tutoring from home. Maybe after practice, you can come over and work on it with me."
That's fine with Johnny, but when he gets to Ms. Claus' house, he's right back where he started: dazed, confused and kinda brainless.
"Why is this important?" Johnny asks as he reads a text book on sexual reproduction.
Ms. Claus decides to show him why. And it just so happens that Johnny has the book in his lap, so when she runs her fingers over the book to explain, she touches his cock, too.
"I think you're getting excited about your school work, aren't you?" Ms. Claus says.
Actually, he's getting excited about Ms. Claus stroking his cock.
And away we go!
My, Ms. Claus, what big tits you have!
My, Ms. Claus, what a pierced pussy you have!
Johnny may not be very good in school, but he's good at eating Holly's pussy. Her moans say so.
"So that's what teacher pussy looks like," Johnny says as he spreads her cunt wide.
Well, not all teachers have a pussy like Holly's. And not all teachers have tits like Holly's. And not all of them suck and fuck like Holly does. But that's why she's at BustyOldSluts.com and they're not.