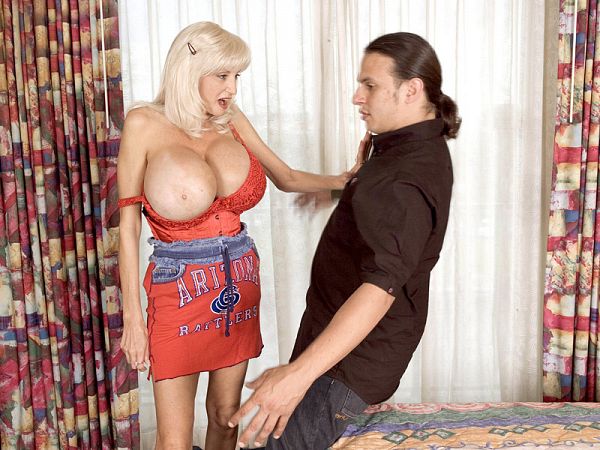 Dee Dee's name contains two Ds for a reason. Her super-sized balloons bounce oh so gently as she sucks and fucks a young stud. He takes a mouthful of this MILF's big tit, and then she rubs it all over his hard cock. Her tits serve as cushions as she gets pounded in her 40something snatch. When her pussy reaches the boiling point, the guy pulls out and splooges all over her breasts. All of this makes Dee Dee a great fuck.
"Dee Dee's pussy was really tight, like an 18-year-old's," the stud said. "I was impressed. She was wet from the start. She didn't need any lube. My fucking cock felt great between her boobs. Dee Dee and Minka have the biggest tits I ever busted a nut on."
If you know Minka, you know that's saying something.
"I love fucking in front of the camera," Dee Dee said. "I love the idea of men jacking off while they watch me fuck. I don't have these big tits just for looks, fellas. I want you to enjoy them. I want you to tell me what your fantasy is. I'll fulfill it."