Joana and Vanessa Y. Handle A Stick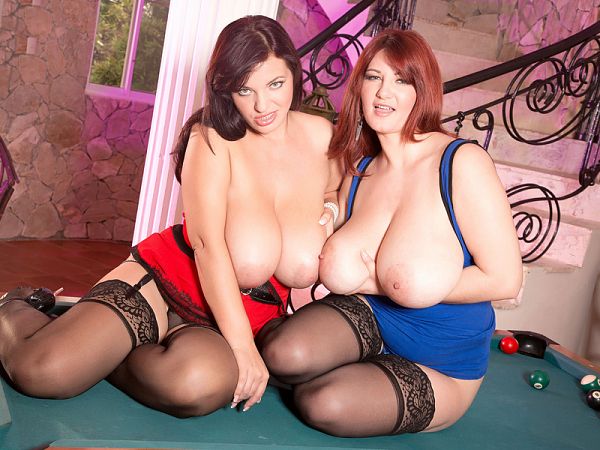 Huge-boobed pool hall hustlers? Huge-boobed, yes. Hustlers, no. When Joana and Vanessa met for the first time and decided to shoot a game of pool, boob history was made. They definitely know how to handle a stick and they definitely know how to rack 'em up!
Vanessa is a frisky one, and checking Joana out has made her horny. Shooting balls into holes takes secondary importance. Vanessa is hot for Joana's big boobs and is in the mood to play with them. Vanessa sucks boobs with lip-smacking intensity that's harder than a lot of guys. This could be a training film on how to suck on nipples.
Joana gets on the table and Vanessa leans over her, begging Joana to suck her nipples. Joana is not one to turn down big and beautiful natural tits. They take off their tight dresses and explore their brickhouse bodies on the green felt, kissing, licking and sucking to their hearts' content. Who is the more aggressive of the two, Vanessa or Joana