Latina Goddess of Boobs & Booty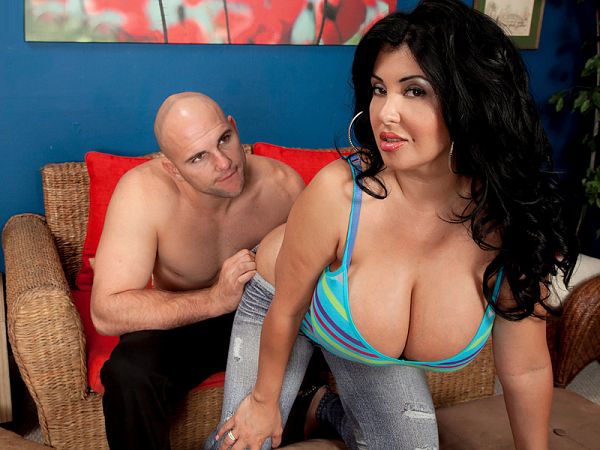 Too hot for only three X's, SCORE Girl Daylene Rio is rated XXXX for raw sex, a super-sexy personality, a beautiful face and body, huge tits that are even bigger now with more boobage and an ass that's now packed with more buttage. She is, like they say in the magazines, "A woman we love." It's always a big event at the SCORE offices when Daylene is visiting.
Daylene is back after over a year away. "It's my second home," says Daylene, who walked into these halls of hooters exactly six years ago (July, 2007). "It's where I can be myself." Since then Daylene has appeared in eight DVDs including XXXtreme Daylene (the all-Daylene DVD) and 18 magazines to date, with more to come.
Daylene will tell you that her time here is not a job and you'll never hear her use the word "work" when it comes to fucking or getting naked on-camera. "It's pleasure," she tells SCORE's editor.
Daylene's tits are bigger now. "They're a size and a half bigger now," says Daylene who says she's now a 36H! That's a two-cup size increase! Her boobs must be keeping pace with the U.S. stock market the past year. And some weight gain has also found a home in Daylene's ass-cheeks. You'll probably be as shocked as we were at first sight.
Daylene's first scene back is with JMac, her fucking bronco in Mamazon (2009). She was the high-priestess and he and his explorer friends invaded the territory of the Mamazons but were surrounded by horny jungle bitches instead.
Daylene goes after JMac's shaft like a woman possessed but she'll find that her stallion is even more take charge than she is. And since this super-Latina believes in male control and is a sucker for cock power, she gives him everything she's got. And that's a lot because Daylene's got the sex drive of four or more women! The action is tremendous but then, this is Daylene Rio we're looking at, Latina Goddess of Boobs & Booty!