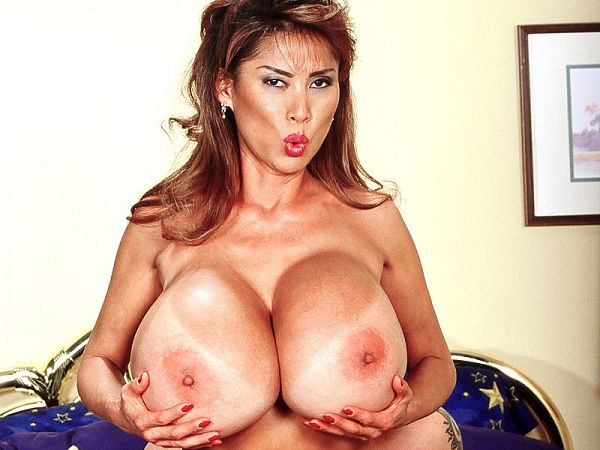 This scene from SCORE Xtra #9 has no theme or plot. Minka kneels on a pillow and is already sucking Steve's thick cock when it begins. The blow job is very lengthy and shot from different and interesting angles as well as P.O.V. The tit-fuck is P.O.V. also. Minka balances on the bed when they start fucking. First, Minka's penetrated from behind. Then she gets in bed for more fucking positions. Steve's thick cock makes Minka grimace at times because she has a very tight pussy. The fucking gets more dynamic as Steve manages to shoehorn his cock in her.
Minka talked about tit-fucking and blow jobs. "If the man is on top, how can he handle my tits?" Minka says. "They have to balance their bodies, so I have to squeeze my tits together. I squeeze hard and tight so I can hold the penis. I tie it up with my titties.
"I often tit-fuck on my knees, and if you don't like to come on top of me, you can lay on your back, and I'll get on top and put your penis between my tits, and I'll rub all over your penis, top and bottom, with my tits and nipples. I'll get on my knees and give you a blow job if you want to cum that way. But most guys just want to fuck my titties. They want to feel them, suck them, and then they want to fuck them. Any girl can give them a blow job, right?
"It depends on what size you are. Two inches? Three inches? Yes. Big ones, I can see the head. Maybe seven inches. But if a guy is three or four inches long, they're hiding! I cannot even see it! Men like it very much when their penises disappear between my boobs."