No Bra Can Hold Those For Long!!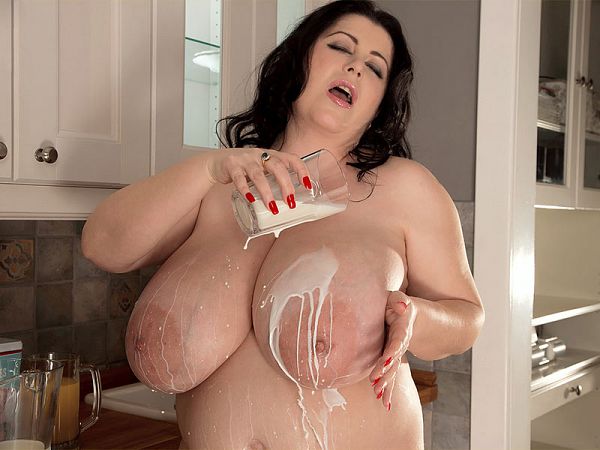 Pregnant Natalie Fiore! Natalie's big boobs are so much bigger now that she's knocked-up. The mind reels from the shock of seeing her this busty. After six years of posing for The SCORE Group around the globe, her boobs getting bigger and bigger every year, her pregnancy-enlarged tits seem a natural progression.
For this installment of Natalie's pregnant journey, she enters the kitchen wearing a tiny dress, her growing belly stretching it out, her huge tits busting out of her tight cardigan buttoned over her bra. Sitting in a chair, Natalie takes off her sweater and describes how much she likes to play with her tits and how horny she is when she wakes up in the morning. As always, Natalie has a sexy vocabulary and likes to talk, one of her many oral talents.
When Natalie unhooks her bra and her massive veiny mams spill forth, time freezes. She gets completely naked and fondles her treasures, then spreads her pussy open so she can rub her clit which sends shivers up and down her body.
"I think I need to cool down a bit," Natalie says. And that's exactly what Natalie proceeds to do. Milk does do a body good.