Prime Peaks Plumped & Pumped To Perfection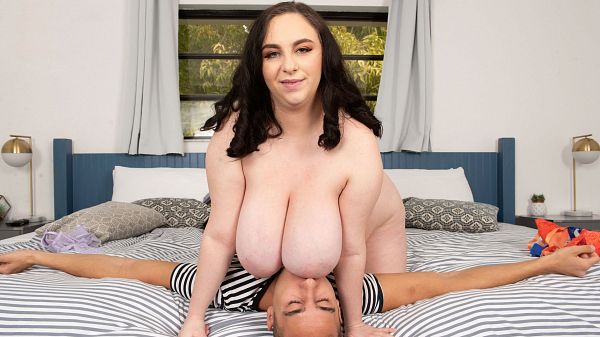 Milan is a real tit-man and takes the time to fondle and suck a girl's breasts and nipples, so we knew he would appreciate getting down with Milly. He's sitting on a bed next to some of Milly's bras and panties and waiting for her to walk into the bedroom. An enviable position to be in. While he waits, he looks over Milly's hooter holsters, eager to see her put them on for him before he has the rare opportunity to give the hot brunette his dick.
Wearing a bra and panty set under a robe and a big smile, big-hearted Milly strolls into the bedroom, ready and happy to give this lucky dude everything he wants. She tries on the orange bra first. Observe her technique. It looks good on her, but it's too small for nature's bounty. If that bra were a dam, it would be ready to give way under the pressure.
Milly's blue bra is next for her to put on. They agree it looks very good on her creamy-white skin. Meanwhile, Milan can't keep his face and hands off Milly's tits. He's boob drunk.
Milly wets Milan's pipe and it disappears inside her cleavage. She gives him a sloppy, drooling blow job, the best kind, and then he puts her on her back to fuck her tits again. She sucks the head as it slides between her boobs.
Pulling off her panties, Milly opens her legs. Milan asks her if she's ready. "Yes, please," she moans. He inches into her bushy pussy slowly, rubbing her clit and building up speed, driving in deep.
Milly: a soft girl for a hard dick.