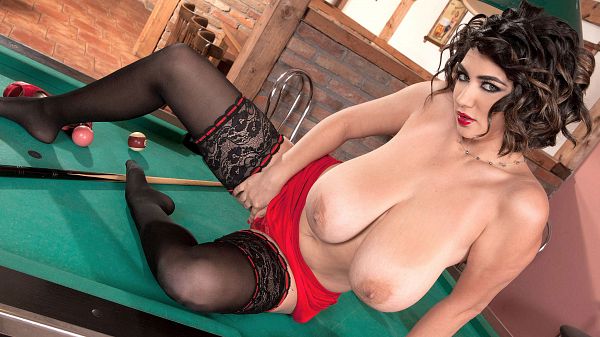 She's got us in her corner pocket. Alexya shows off her award-winning rack while she racks 'em up on the pool table. The 2015 Voluptuous Newcomer of the Year hits the felt when she's done handling the cue stick and whacking balls. At the end of the video, Alexa uses her big knockers to knock the balls into the corner pocket. No fair! That's cheating. Then again, all's fair in billiards and boobs. And since Alexya gave us another sexy show, this time on the green felt, we'll accept the defeat. Who could win at the pool table when this girl is so distracting?
Alexya said one of her fantasies is to "shop at a supermarket naked and act like it's a perfectly normal thing to do." In our opinion, playing pool naked (except for stockings) also seems like a perfectly normal thing for Alexya to do. Pool tables and hot, nude chicks are a match.
Alexya said she was a late-bloomer in the breast department.
"I was already about 18 or 19 years old when they started to grow. I see that many of the models at SCORELAND say they got boobs young. That was not my experience."
Keep rackin' us up, Alexya.