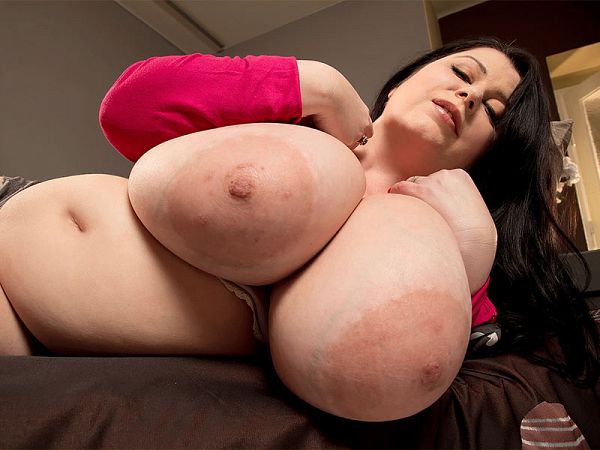 TSG has been photographing Natalie Fiore since 2006 and she has traveled to Nassau, Prague, The Bahamas and Mexico with the TSG photo team. And each time, Natalie's tits have gotten bigger and bigger!
"Hey guys!" Natalie says as she walks into frame. "Did you miss me? Or did you miss my tits? Like the new shape of my tits?" Natalie's cardigan looks ready to pop its buttons and burst open.
Natalie is just as passionate, talkative and interactive as she was in all of her previous scenes over the years at XLGirls and SCORELAND. She has that special talent of making the viewer feel as if she is talking directly to him. She knows how to command attention. When she enters a room, all heads turn to her.
This is breast heaven. What does Natalie plan to do today? Measuring, boob play and oiling are just a few of the items on the menu. Natalie's tits now measure 52-inches. She's wearing double-H bras but has to have them fitted by a bra specialist. Now, with clients like Natalie, that's a career to consider.