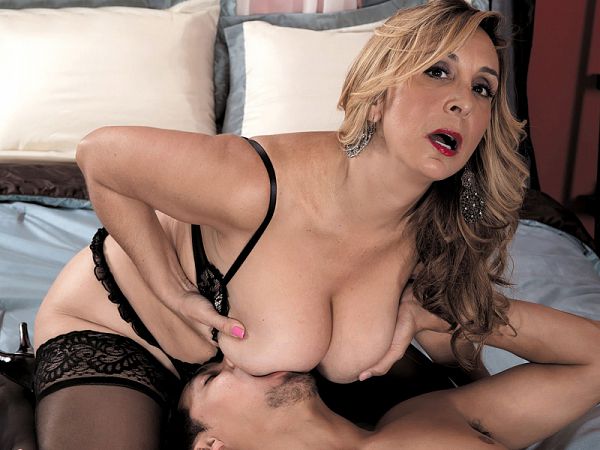 Sophia was a bit nervous as she sat in our studio styling room and got all prettied up for her first-ever on-camera fuck. You see, this 42-year-old from Long Island (now living in Miami) isn't a nudist. She isn't a swinger. She has never been an exotic dancer. She has done some modeling, but sucking and fucking a total stranger on-camera That's a whole other ball of wax!
But, as you're about to see, Sophia's hardcore cherry-breaking went smashingly. She looks amazing in sexy, low-cut lingerie that shows off her soft curves and her big, creamy DD-cup naturals, and we think the stockings and fuck-me pumps add a nice touch. Sophia is all smiles as she shows off her body and then tugs her stud's cock, and her smile disappears only because…well, from what we're told, it's hard to smile and suck cock at the same time. All nerves are gone by the time Sophia hops on top of Juan's cock (and shows off her nice, plush ass, too), and her smile returns as cum drips down her chin and onto her tits.
Sophia is single (never married). She trains people to ride horses. She found us through her agent. She enjoys reading, watching movies, going to the beach and writing poetry. She likes guys with a good sense of humor who know how to cock her. And her perfect day?
"Breakfast in bed, a day at the beach or pool with reggae music playing, then the spa, dinner, a good movie and sex!"
She once had sex "on the hood of a car at a beach parking lot at sunset."
She might have had an audience then. She was too into what she was doing to remember. She definitely has an audience now!