The cabana boy serves Stormy a cum cocktail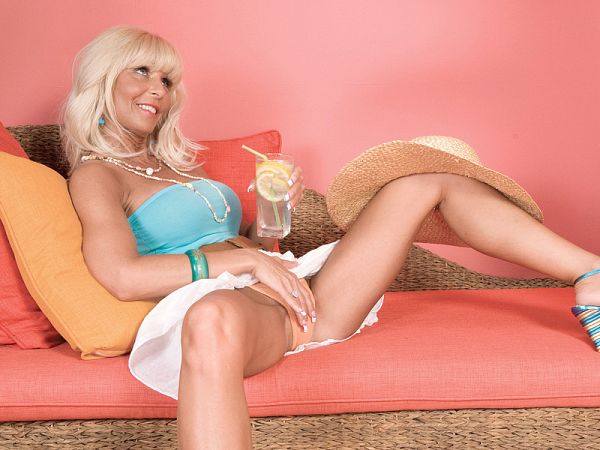 It's a hot summer day, and Stormy Lynne, a 45-year-old divorcee from Ohio, is overheated. Tall, blonde and sexy, Stormy has just come in from the pool, and she needs something to cool her down. But where's that cabana boy? She needs her drink, and fast. She needs his cock, and fast! Finally, he shows up with her drink.
"Is there anything else I can do for you?" Cabana Boy asks.
"What other services do you do?" Stormy asks.
"Pretty much anything that you'd like," he says.
"Does eating pussy fall in that category?" she asks, spreading her legs to show him what's under her skirt.
Whoa!
"Why don't you put that tray down and start eating this pussy," Stormy suggests.
Now that's a heck of an idea! Stormy's pussy is bald and pink. The Cabana Boy might get fired for this, but it'll be worth it. You see, Stormy has DD-cup tits. And she's a great cock sucker. And she's got tight abs and a pierced belly button. And her pussy can really take a pounding. What else does the Cabana Boy serve?
"Oh, I want to taste your cum!" Stormy says. Coming right up, ma'am!