What If You Were Arianna's Man?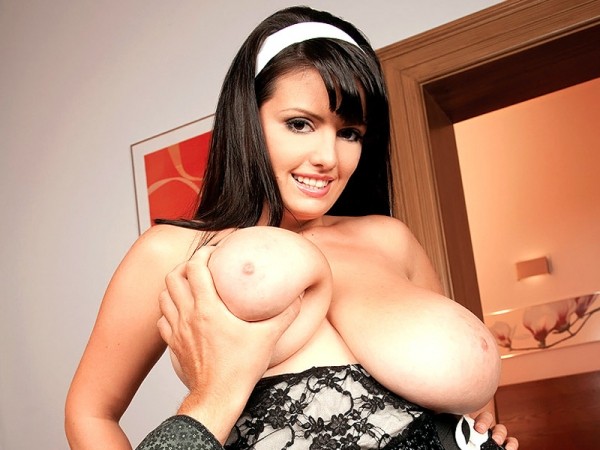 You may have already noticed that Arianna's hardcore scenes are getting raunchier and raunchier. And if you haven't noticed, this video should call it to your attention.
"You can now sit down," Arianna tells us at the start of the scene, talking directly to us. "I want to tease you. I know you have enough teasing on the website, but today it will be real."
How real? Well, let's see. Arianna is looking sweet and girlish in her black and white lace top and stockings, but when she lifts her dress, we see that she's not wearing panties. The camera is looking right up at her, her breasts providing a ledge that nearly blocks the view of her pretty face, and Arianna seems to be enjoying the intimacy of the moment."I can't wait to make you happy, baby," she says before sucking a finger like it's a cock. A hand from an unseen body appears and kneads her tits through her dress, then plays with her pussy, then plays with her naked tits. And before long, this guy, our surrogate, is fingering her pussy, and we're off to a good start.And away we go with Arianna sucking cock sloppily while looking into the camera, then wrapping her pillowy naturals around the 100% real fuck stick, then getting fucked hard into a corner of a couch, tits jiggling wildly, Arianna moaning, "Yes, baby!" In the final moments, she tit-fucks the cum out of his cock, and this dude sounds like he's about to have a heart attack, and Arianna looks like she's satisfied but wants more. Which, of course, she'll get. Stay tuned.