Codi's first three-way with two guys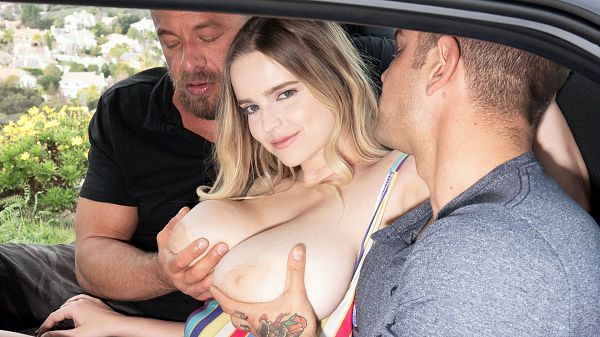 Codi is trying to hitch a ride on a quiet road. The hills in the background have nothing on Codi's hills. Since she's wearing denim shorts and a low-cut top, the odds of a driver stopping are pretty good. Sure enough, two guys stop and offer her a ride. They'd have to be crazy not to. To make her intentions clear, Codi reaches in and rubs the leg of Brad, who's sitting in the passenger seat.
Codi hops into the back seat pulls down her top to show Brad and Juan her amazing breasts. Brad reaches back to feel giggling Codi's soft, warm skin. He's hooked on the feeling. She rubs her pussy through her shorts in anticipation.
The trio drive to her place. They head straight to the bedroom, unable to keep their hands off her boobs. Everyone strips off. Codi takes a cock in each hand and jerks them while the boys keep busy rubbing and playing with her tits. Codi kneels between them and begins sucking their dicks.
They all get on the bed to take turns feeding Codi cock and fucking her breasts. Both dudes lay back so Codi can ride each pole. They have Codi covered from both sides.
When Codi's getting her furry pussy banged in doggie or sideways, the other guy is getting his dick and balls sucked. Is this Codi's hottest, wildest scene? You decide.