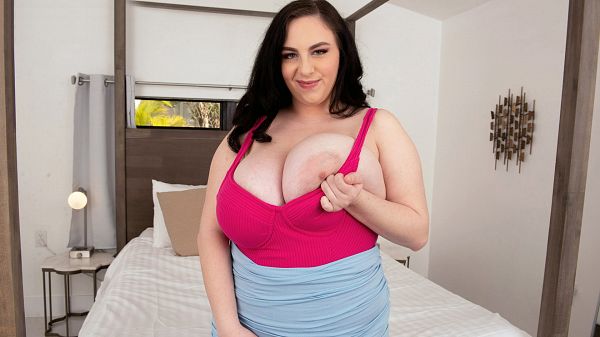 As our photographer says at the beginning of this video, "Here's someone who needs no introduction." Beautiful as ever, Milly wears a red tank top and leans forward while she chats with him for a few minutes. Milly says her breasts are now 36M-cups. If the sight of her unleashing those torpedoes doesn't make your eyes pop, nothing will.
Milly goes to a specialty store to buy new bras. The store staff doesn't use a tape measure.
"They just eyeball me. They kind of just look at the bra I'm wearing and we try on tons of bras until they find the ones that fit," Milly said.
Sounds like those folks should be working here, or at least finding models for us. Her workouts at the gym are better when she's wearing the right bras to keep all of her goodies from getting out of control. Even so, Milly gets lots of attention.
The photographer mentions a comment Minka once made: "The bigger the boobs, the more you get horny. "
"I think there might be some truth to that," Milly responds. She knows who Minka is and knows the power big boobs have over men. And with that said, Milly walks over to a wall mirror….